Leapers UTG 2-7x44 Scout Scope 11-9.5 Eye Relief Etched Illuminated Mil Dot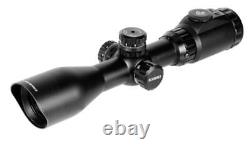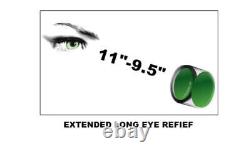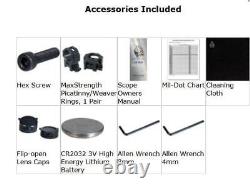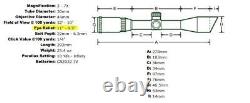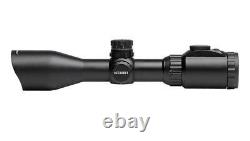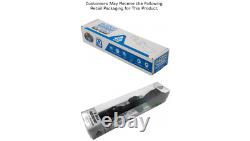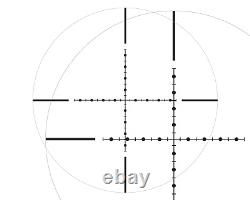 Leapers UTG 2-7x44 Scout Scope 11-9.5 Eye Relief Etched Illuminated Mil Dot. Compact with very long 11" - 9.5" eye relief. Use on any gun where the optics cannot be mounted directly above the action Magnification - 2-7x Objective Lens Diameter - 44mm 6 dot per arm mil dot. Etched glass Illuminated reticle - Red/Green Dual-Color Mode and 36 color multi-color mode to accommodate all weather/light conditions Eye Relief - 11" - 9.5" Field of View - 18.3-5.2 feet/100 yards Tube Size - 1 inch Turret Style - Capped Adjustment Graduation - 1/4 MOA Travel per Rotation - 15 MOA Max Elevation & Windage Adjustment - 60 MOA Parallax Setting - 100 yards fixed Length - 10.5 inches Weight - 12 ounces Fully Multi-Coated Second Focal Plane Reticle Capped Reset Turrets. Provides amazing, true and consistent extended Eye Relief (11" - 9.5") for shooters to effectively use on any gun where the optics cannot be mounted directly above the action.
Compact length: 27.8cm - 11. >>> Indestructible Etched glass mil-dot reticle. >>> 30mm Tube with Best in Class Emerald Lens Coatings to Achieve Maximum Light Transmission for Best Clarity.
>>> For all types and power of Hunting rifle and Air Rifles AND pistols due to extra long eye relief - see testing on powerful spring air rifles and scope killer firearms info below. >>> Big 30mm tube for superior light transmission.
Means the 44mm lens performs more like a 50mm + lens on a 1 tube scope. >>> 36 Colour illuminated Range Estimating 6 Mil dot Reticle. >>> Premium Zero lock and reset zero 1/4 MOA turrets. >>> Side Focus side wheel adjustable turret (SWAT) for Parallax Adjustment From 10 Yards to Infinity - Compatible with Leapers 60mm, 80mm and 100mm sidewheels. >>> Supplied with hinged flip up back and front lens caps.
Leapers UTG True Strength 1 piece tube construction. Waterproof - Shockproof - Fogproof - Exceptionally Recoil proof. Nitrogen filled and sealed tube. Crystal clear vision through fully multi coated camera quality lenses.
Parallax 10 yards to infinity by Side Focus turret. Genuine Leapers sourced direct from Leapers. EZ Tap Illumination 36 colour illuminated Etched Glass mil dot cross-hairs. A great help in low light, bright light, strange light!
Allsorts of applications for different prey and targets in all ranges of lights and against different backgrounds and terrain. EZ Tap is a highly innovative, low profile illumination control with 2 soft and ergonomic control buttons designed for easy and fast hand/finger operations.
Special circuit and housing design for uninterrupted illumination even under heavy recoil. High-tech memory allows quick, easy adjustment to your preferred brightness, rapid switching between red and green illumination, and maintaining brightness last used when changing reticle color or turning light back on. Lots of fun to use too! Push both buttons at same time and hold to enter 36 colour reticle mode.
The Mil-Dot Reticule was developed by US Marine snipers in the 70s to improve range estimation. It is now the most popular fieldsports crosshair about. Tactical Range Estimating(TRE) mil-dot. The innovatively designed Leapers Mil Dot reticle has improved upon the standard mil dot by giving you more reference points for quick range estimation during shooting.
Leapers/UTG started introducing mil-dot reticle optics from as early as 2003, pioneering the Range Estimating concept as a useful tool for hunters and shooters around the world. Today, mil-dot reticle is widely accepted and used in this industry. Leveraging our years of experience in this area, we developed and refined the unique Tactical Range Estimating(TRE) mil-dot reticle and offer this feature in almost all of our optics. With some patient learning and practice using our TRE, shooters can enhance accuracy and performance in ways not imagined before.
2-7x44 features 6 Dot TRE: For unique optical requirements, Leapers/UTG further created a new TRE variation. It has 6 dots on each direction of the cross hair, giving you 13 different aiming points for either windage or elevation. If you count the 2 inner tips of the opposite duplex cross hairs, you get 15 aiming points for estimation. Excellent light capture with fast target acquisition and moving target tracking.
Great for all light conditions. Multi layer coating gives excellent light transmission and clarity of vision while limiting glare and reflection. Variable 2-7x magnification - adjust anyweher 2-7x. An ideal general purpose, woodöand and big game magnification type. Windage/elevation target turret with center hex screw to control zero locking, zeroing and zero resetting functions.
Easy, fast adjust 1/4 at 100 yards. Windage and elevation is how you set the scope so that your shot falls where the cross-hair says it will. Set it up (instructions supplied) and put the protective caps back on so that your settings stay in place. Leapers True Strength Platform = Mega strong recoil proof scopes. Leapers have designed an ultra strong 1 piece scope basically.
Using what they call smart spherical structure (SSS) to achieve simplified and strengthened inner/outer tube interaction for exceptionally precise and responsive W/E adjustment and super tough resistance against a lifetime of recoil. You will get the scope plus. Mounts to fit it onto a rifle ARE included for 20mm Weaver/Picatinny bases. Please ask if unsure what you need. Get images that make Supersized seem small.
We are a specialist UK based supplier of rifle scopes optics and sights, night vision, mounts, base adapters and bipods for air rifles. 22, rimfire, centerfire, tactical and hunting rifles and airsoft combat gaming. We offer an extensive range of products at competitive prices.