Sportsmatch WULF ATP61 30mm 2 Piece Extra High Adjustable Scope Mounts 9-11mm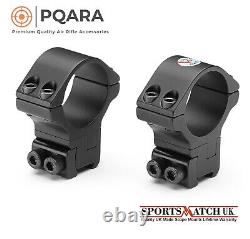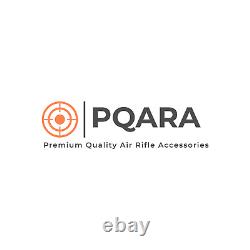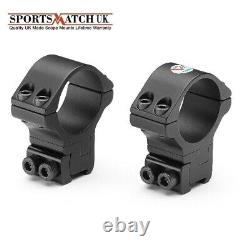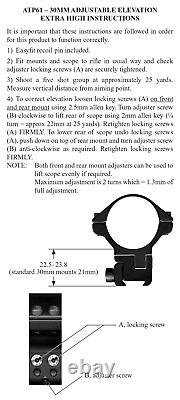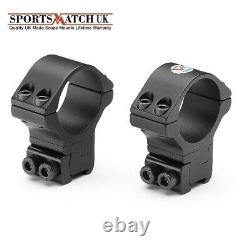 Sportsmatch WULF ATP61 30mm 2 Piece Extra High - Adjustable Scope Mounts. These premium mounts are made of high grade aluminium and are superb premium quality products, made in England to precise tolerances and will last a lifetime of heavy use in the field. Height Adjustable (Perfect for setting up FT scopes). Fits 9mm to 11mm dovetail rails.
Suitable for scopes up to 56mm objective lens diameter. Includes Allen keys for easy fitting and adjustment. A = Height & Adjustment 22.5mm - 23.8mm From base of mount to OD of tube.
Was established some 49 years ago and has grown to be the market leader in the manufacture of quality rifle scope mounts and scope rings for all types of sporting, target and centrefire rifle shooting. We are now known in over 40 countries for High Quality, British made scope mounts and accessories and have an excellent reputation. Our products are manufactured using the latest CNC machinery available but every component manufactured is inspected by hand prior to final assembly.
This ensures Sportsmatch Scope Mounts offer correct alignment and a rock solid dependable grip onto your rifle and scope which will Optimize your Accuracy. The much acclaimed Sportsmatch range is available in many heights and diameters to suit virtually all rifle / scope combinations.
No Loss of Zero - Guaranteed. Scope Rings for Centrefire, Rimfire & Air Rifle. Proudly made in Great Britain. Users of Sportsmatch scope rings include military special forces, professional vermin controllers and competition shooters competing at the highest level. The thing they all have in common is that they all choose Sportsmatch rings and shoot more confidently knowing that their rifle and scope combination is Optimized for Accuracy. Sportsmatch WULF ATP61 30mm Xtra High Scope Mounts with Adjustable Elevation.