Vector Optics Continental 4-24x56 FFP 34mm Scope (SCFF-29)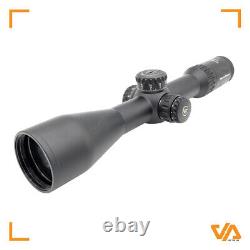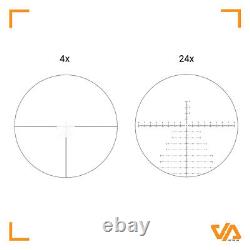 The Titan of the range. The Continental range of scopes is the nexus of development from vector optics that has succeeded the Paragon range as Vector Optics Top Of The Range Scopes. Designed purposely to compete with scopes priced in quadruple figures. The Continentals are fast becoming the pack leader of the scope frontier. The 34mm Monotube Made of 6061 T6 Aluminium Alloy body houses the German Schott HD Glass.
German Optics System by using LaREE Lens & VePRO Full Multi-Coating results in over 90% light transmission with v. Ery little distortion and extra-low dispersion.
All of this combined means this range of scopes are excellent for Dawn, Dusk Even at Night Shooting with your favourite Night-Vision. Please note this scope is a 34mm Tube meaning you will need 34mm mounts. To compensate for drop at long range. Field of View: 5.9-1.0°.
Length of middle turret part: 48mm (1.9 inch). Focus mark: 10,15, 20, 30, 50, 100, 200, 300, 500 and infinite.