Walther Scope ZF 3-9x44 Air Rifle Shooting/Hunting Mil Dot Telescopic 2.1530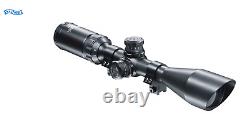 Walther Scope ZF 3-9 x 44 MilDot. This scope is not the Sniper Scope. A rifle scope in the Walther Range with variable magnification and a Mil Dot reticle. The sunshade prevents reflections in the target image.
The mount fits 11mm dovetail rails. An Umarex ZF 3-9×44 rifle scope in the Walther. Range with variable magnification and a Mil Dot reticle. Umarex Walther ZF 3-9×44 Amazing Image Sharpness. The glass optics filled with dry Azot offers excellent image sharpness.
The regulation of image sharpness is realized by turning the eye piece. The cross is horizontally and vertically adjustable. There are also special regulating screws for quick adjustments of the cross without need to use other tools.
The zoom(3-9x) is regulated by the ring on the tube with fine control. The optics is protected by the flip caps which are on the rifle scope. Is equipped with the mounting for the 22mm rail. Type of the cross: MilDot. It is an outstanding rifle scope with possibility of zooming regulation 3-9x. It is suitable for tactical guns. The great plus is the possibility to adjust the cross without using a screwdriver; simply turn the adjusters with your finger. The flip caps allow quick cover of the optics during the movement to avoid scratching.
Features Of The Umarex Walther ZF 3-9×44. 3-9 Reticle: Mil Dot Diameter: 44 mm. Adjusting the ring with a good grip ensures ease of use.
Thanks for looking at our items! Vanguard Reloading provide reloading supplies and shooting equipment to the UK Market. We are based in Luton, Bedfordshire. We have many years experience in the shooting industry and our sister company is a privately owned Bedfordshire based Home Office Approved Shooting Ground catering for Smallbore & Gallery Rifle, Fullbore Rifle, Practical Shotgun & Clay Pigeon Shooting. We are serious reloaders ourselves and enjoy all shooting disciplines. All of our listings specify our dispatch times. We do try and speed this up and where possible we will always try to dispatch orders faster than the stated time. This may take slightly longer to arrive but we do provide options to pay for a faster courier service at the customers additional expense. We are a UK Registered Limited company with the name Venture Technical Limited and Vanguard Reloading is a trading name of this company. We are registered for VAT in the UK and your invoice provided will include itemised VAT where it has been charged by us on all applicable items. This reduces our administration time. We pride ourselves on providing excellent customer service and will respond to any messages as quickly as possible. We sell reloading and shooting relating products by the most popular and quality brands and we always do our best to keep in stock the popular reloading products and presses. We are a small business and so looking after our customers is our top priority. Given the nature of reloading we will accept no liability whatsoever for the use or misuse of any of our products.
Always read and refer to load manuals and handle any hazardous materials safely.